Hey Sauder!
Even though Thrive Week was back near the beginning of November, the HeWe Team would like to highlight some of the best mo-mints from the week and share the experiences of some fellow students!
What is Thrive?
Thrive is a mindset and a week-long series of events focused on building positive mental health for everyone at UBC. - thrive.ubc.ca
Where can I learn more about Thrive?
Head over to the Wellness Centre in Irving K. Barber Learning Centre, Room 183, visit their website at students.ubc.ca/health-wellness/peer-support-wellness-centre, or explore posts from the latest Thrive Week using the #LetsThriveUBC hashtag on social media to learn more.
Events on campus:
thrive information booth @ Lee Square (outside of the bookstore)
pop-up Wellness Centre lounge @ Brock Hall
movie screening & chill night @ Seedlings Café
meditation & yoga @ CIRS
get moving events @ the SRC
Thrive themes!
Photos taken from the Thrive UBC Facebook event page.
Highlights!
Quotes from Sauder students. Congratulations on winning Thrive stress balls! Message the HeWe Facebook page to claim your stress ball.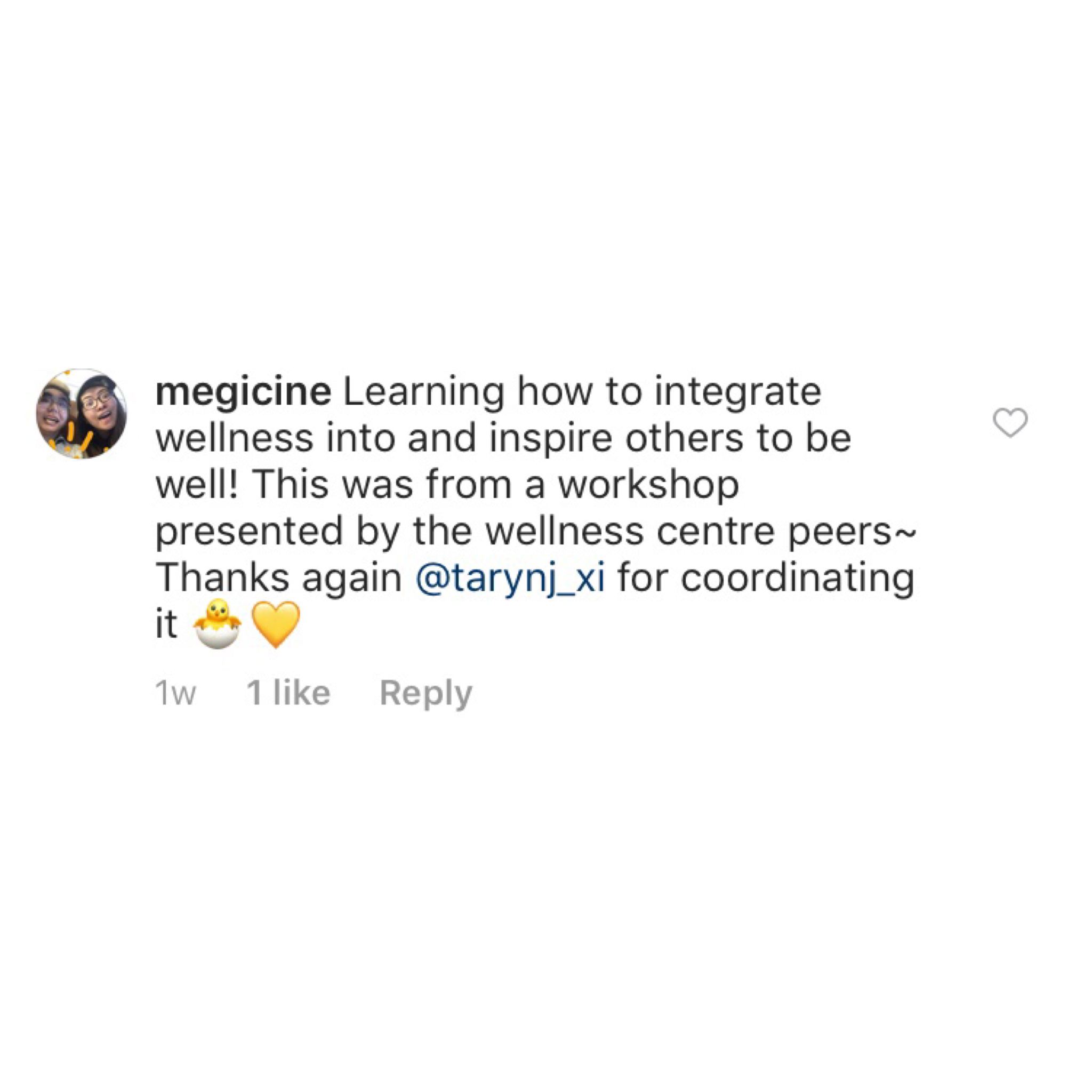 Sauder Involved
On Thursday, November 2nd, the Undergraduate Office (UGO) and the Commerce Engagement Ambassadors (CEAs) partnered with Thrive UBC to bring Sauder students Wellness On The Go!
Wellness On The Go provided hungry Sauder students with a healthy, portable snack, and mental wellness resources to help them manage midterm stress. Students happily filled their shiny new mason jars with yogurt parfaits, veggies, mixed oats, and more! Once they had filled their jars and to the brim and read over the wellness resources, students shared what they were thankful for on a community board, highlighting all of the small things that bring light to our ever-busy lives.
Overall, Wellness On The Go brought positivi-tea and sunshine to Sauder on what would be a normally wet and cold Vancouver day.
HeWe approves!
- The HeWe Team
Message From VP Mental Wellness:
Thank you so much to everyone that participated in Thrive Week and the social media contests! It is incredibly important for us to look after our mental health, and awareness events like Thrive are helping us making huge steps toward breaking the stigma surrounding mental health.
That being said, just because Thrive Week is over (for now), that doesn't mean we should stop Thriving! I encourage you to take the practices and activities you learned about or tried during Thrive Week and incorporate them into your daily life. For example, if you tried yoga for the first time, see if you can keep it up! Or, if you practiced meditation or reflection exercises, try to do these activities once per week to keep the good habits rolling.
Mental health awareness is an on-going battle, so our fight against the stigma and the fight for better mental wellness for all should continue on as well!
Peas have a wonderful rest of your term, and I wish you all the best during finals!
- Taryn, VP Mental Wellness